COVID-19 Broadband Resources
The COVID-19 pandemic has impacted Virginian's ability to work, access healthcare and education, and has magnified the digital divide more than ever before. The Commonwealth Connect team has launched this webpage to provide information about what both the federal government and Virginia's ISPs are doing in response to the crisis. For the latest on Virginia's response to the coronavirus (COVID-19), please visit https://www.virginia.gov/coronavirus/.
Affordable Connectivity Program
The Affordable Connectivity Program is an FCC benefit program that helps ensure that households can afford the broadband they need for work, school, healthcare and more.

The benefit provides a discount of up to $30 per month toward internet service for eligible households and up to $75 per month for households on qualifying Tribal lands. Eligible households can also receive a one-time discount of up to $100 to purchase a laptop, desktop computer, or tablet from participating providers if they contribute more than $10 and less than $50 toward the purchase price.

Virginia Public WI-FI Hotspots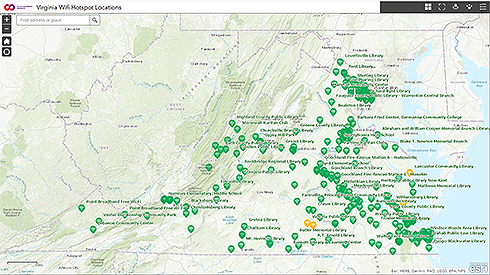 Click on the map for an interactive list of public WI-FI hotspots in Virginia, which will be continually updated.

Virginia Internet Service Providers
Many providers have gone beyond the Keep Americans Connected pledge, please find links to their response to COVID-19 below: